http://en.wikipedia.org/wiki/Lake_Titicaca#Uros
Titicaca is notable for a population of people who live on the Uros, a group of 42 or so artificial islands made of floating reeds (totora, a reed that abounds in the shallows of the lake). These islands have become a major tourist attraction for Peru, drawing excursions from the lakeside city of Puno. Their original purpose was defensive, and they could be moved if a threat arose. Many of the islands contain watchtowers largely constructed of reeds.
http://en.wikipedia.org/wiki/Uros
The islets are made of totora reeds, which grow in the lake. The dense roots that the plants develop and interweave naturally form a natural layer called Khili (about one to two meters thick) that support the islands . They are anchored with ropes attached to sticks driven into the bottom of the lake. The reeds at the bottoms of the islands rot away fairly quickly, so new reeds are added to the top constantly, about every three months; this is what it makes exciting for tourists when walking on the island. This is especially important in the rainy season when the reeds rot a lot faster. The islands last about 30 years.

Much of the Uros' diet and medicine also revolve around these totora reeds. When a reed is pulled, the white bottom is often eaten for iodine. This prevents goiter. This white part of the reed is called the chullo (Aymara [tʃ'uʎo]). Like the Andean people of Peru rely on the Coca Leaf for relief from a harsh climate and hunger, the Uros people rely on the Totora reeds in the same way. When in pain, the reed is wrapped around the place in pain to absorb it. They also make a reed flower tea.

The larger islands house about 10 families, while smaller ones, only about 30 meters wide, house only two or three. There are about 2 or 3 children per family currently.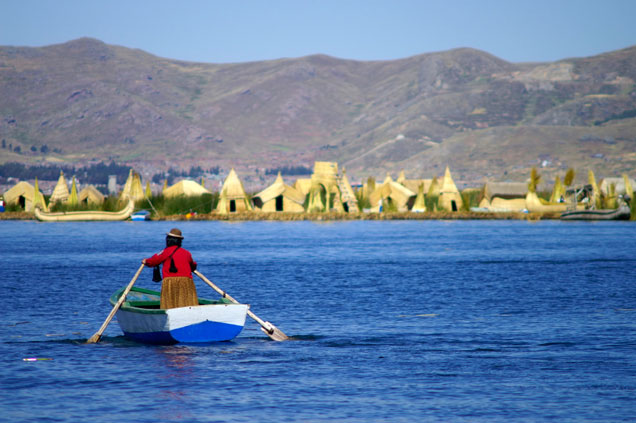 http://gosouthamerica.about.com/od/topd ... slands.htm
http://www.archaeolink.com/uros_indians ... americ.htm